Garage Door Service Boston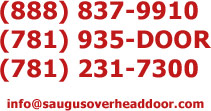 Boston, Massachusetts - Garage Door Service Numbers:
Any time you need help for your garage door at home or your business in Boston or when you want to get a new door, you're going to want exceptional service and we will do that for you with any garage door sales/installs, repair and any other services.
Boston Garage Door is second to none when working on your garage door, with our numerous years of experience, and professional skill for your repairs, installs and sales, so you will have the best in garage door service that always provides effective security and works the way you want it to. You can count on our residential and commercial repair service 24 hours a day for any need you have here in Boston, we can replace parts, offer installs and replacements on all doors, such as Raynor, Amarr, Liftmaster, Clopay and much more.
At Boston Garage Door we understand your garage door at home is meant for safety and security, and you will see them with other purposes, such as a professional establishment that requires this type of protection. When yours has been impacted by a car or truck, works poorly or not at all, or needs a new opener or hardware, the only choice should be to hire the best, and you've found us, Boston Garage Door, because our technicians have the experience to compete the work you need done.
More than you might believe issues with garage doors arise at the worst moments possible and instead of worrying about a trespasser or thief entering the property you can rest assured that we provide quick results that will provide you a door that works like it should and you won't have to worry about an unauthorized or allowed person freely entering your garage, residence, business, or any other place where they should not be.
Our technicians have seen practically every scenario that may arise with every kind of garage door and we know we can care for your problems, too. We are well versed on every type of door and material and also will be able to give recommendations, help you upgrade, install parts and complete systems and offer sales for doors that will fit your needs. We specialize in all types of work, offering many alternatives that are on par with what you need, and we get it done fast do you don't have to worry.
From a garage door at a home to multiple or single ones at businesses in Boston, we can take care of the job that you need to have completed. There won't be a need to large or too small for us to handle and we are always prepared to do the work when you need it.
Boston Garage Door Repair
Struggling to get your garage door repaired? Contact us at Boston garage door to have a garage system repaired, modified, inspected, or refurbished. Boston garage door can repair all types of folding doors, mechanical or electrical issues, chain systems, openers, overhead doors, or sliding gates. We can also manage replacing garage doors, openers, and complete systems if the garage door system can't be fixed.
SERVICE AREAS:
Brighton
,
Cumberland
,
Peabody
,
Andover
,
Marlborough
,
Jamaica Plain
,
Nashua
,
Somerville
,
Medford
,
Woonsocket
,
Shrewsbury
,
Malden
,
Lawrence
,
Waltham
,
Attleboro
,
Cambridge
,
Salem
,
Taunton
,
Revere
,
Chelsea
,
Haverhill
,
Leominster
,
Methuen
,
Arlington
,
Lowell
,
Boston
,
Quincy
,
Framingham
,
Providence
,
Brookline
,
Woburn
,
Gloucester
,
Braintree
,
Everett
,
Brockton
,
Lynn
,
Pawtucket
,
Plymouth
,
Worcester
,
Beverly