Garage Door Service Malden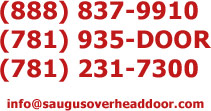 Malden, Massachusetts - Garage Door Service Numbers:
When the time comes where you need assistance for your Malden garage door or you'd like to purchase/install a new one, the work you have done must be professional and we are the ones to do that for any garage door sale, repairs, and service that you need.
Boston Garage Door is the authority on your garage door, with our numerous years of experience, understanding and knowledge with repairs, service and sales, in order to give the finest garage door care that always provides effective security and works the way you want it to. We offer residential and commercial repair, with 24 hour, fast availability for any need you have here in Malden, we offer replacements, parts and installs of all door brands, such as Liftmaster, Clopay, Genie, Martin, Able and every other make.
It is well know to us at Boston Garage Door that your homes garage door is in place for security, or it might have larger purposes commercial warehouses and other businesses. If the one you have isn't working, has problems, or if there are larger problems or hardware issues, you will want to have the best in care, and that is us at Boston Garage Door, where our expert technicians have the right skills and tools to compete the work you need done.
More than you might believe when a garage door breaks it is a bad time, and as opposed to having concerns about the fact that others can get inside you will be happy to know that we will make sure that your door is in great working order and there won't be a need to worry about someone freely entering your garage, residence, business, or any other place where they should not be.
Our technicians have seen practically every scenario that arise with every kind of garage door and we are the skilled professionals to handle your needs. We can supply work on metal, steel, vinyl, wooden and any other type of material door and we'll be there to offer suggestions and show where you may need upgrades in systems or hardware, as well as provide sales of new doors. We do the job that needs to be done and we provide many recommendations that goes with the kind of work that needs to be done, and we always do the work fast, friendly, affordably and professionally.
From a single home garage to the ones that a business uses in Malden, we can meet your needs for the work that you would like to have done. There is no size of job to large or little for us to do, and we will always be ready to do the work when you need it.
Malden Garage Door Repair
Need to have a garage door fixed? Call the professionals at Malden garage door to get your garage door system or opener inspected, refurbished, modified or repaired. Malden garage door can fix any brand's overhead doors, sliding gates, openers, folding doors, electrical/mechanical issues, or chain systems. Malden garage door also manages swapping in a new unit for garage doors, openers, and complete systems if the garage can't be repaired.
SERVICE AREAS:
Marlborough
,
Andover
,
Lawrence
,
Shrewsbury
,
Lynn
,
Arlington
,
Brockton
,
Chelsea
,
Jamaica Plain
,
Gloucester
,
Attleboro
,
Malden
,
Peabody
,
Lowell
,
Framingham
,
Brighton
,
Cumberland
,
Pawtucket
,
Waltham
,
Beverly
,
Medford
,
Quincy
,
Somerville
,
Salem
,
Woonsocket
,
Taunton
,
Methuen
,
Nashua
,
Cambridge
,
Worcester
,
Providence
,
Revere
,
Braintree
,
Everett
,
Haverhill
,
Brookline
,
Woburn
,
Leominster
,
Plymouth
,
Boston